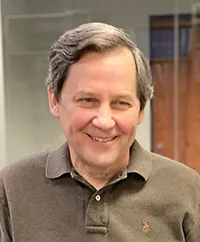 Dr. Sayers is a lifelong Austinite. He attended Austin High and U.T. Austin before attending the University of Texas Southwestern Medical School at Dallas. He went on to do an Internal Medicine residency at University of New Mexico Affiliated Hospitals in Albuquerque. Upon completing his Internal Medicine training, he was accepted for a two-year Rheumatology fellowship at the U.T. Health Science Center in San Antonio.
After training and board certification in both Internal Medicine and Rheumatology, Dr. Sayers returned to Austin. He practiced briefly with the Austin Diagnostic Clinic, but wanted a smaller, more personal practice setting for his patients and soon established his own private practice and has practiced in this patient-centered atmosphere ever since.
He is a 2011 graduate of The Episcopal Theological Seminary of the Southwest, receiving a Master of Arts in Pastoral Ministry. His ministries since graduation have included Ministry of Challenge, a faith-based, residential drug and alcohol rehab program for indigent and homeless men in east Austin, and Texas Reach Out's Matthew House, a faith-based transitional house for recently incarcerated men who are trying to rebuild their lives upon release into society.
Dr. Sayers has been involved in organized medicine in Austin for many years, serving in many leadership positions, including Travis County Medical Society President. During his time with TCMS, he has made the focus of his work enhancing the availability of medical care for indigent residents of Travis County. Among his volunteer activities, he serves as a volunteer physician at Volunteer HealthCare Clinic, a non-profit that primarily serves undocumented immigrates, most of whom have no access to healthcare through the current safety net system in Travis County. He also serves on the Executive Committee and as co-medical director of Project Access, a project of the Travis County Medical Society Foundation that provides free medical care to the working poor.
He has been deeply involved in projects related to physician health. He serves as chair of the TCMS Physician Health and Rehabilitation Committee, supporting and monitoring physicians in recovery, and is the founding chair of the TCMS Physician Wellness Program (PWP). PWP provides anonymous counseling for physicians in need, along with a variety of educational and self-help programs to promote physician well- being and enhance patient care quality and safety. As of 2023, the program had provided over 1600 counseling visits for over 350 physicians.
For his body of work, he has been highly recognized by his peers, serving as president of the 4500 member Travis County Medical Society in 2011 and in 2017 he was awarded the Gold-Headed Cane/Physician of the Year award by that same organization. He has been named by his peers as a Castle Connolly Top Doctor annually since 2010 and as a Texas Super Doctor annually since 2004

He and his childhood sweetheart and wife Maryann, have three children, seven grandchildren and live in central Austin where, in addition to time with his family and volunteer activities, he enjoys running (well, sort of) on the Shoal Creek Hike and Bike trail, cheering on the Longhorns, and an occasional, ill-fated attempt at golf. Most weekends he can be found at the family olive and apple grove in Fayette County.
Of his work he notes, "I enjoy the daily intellectual challenges and problem solving that a rheumatology practice provides, but at this point in my career, far and away what I enjoy most is my patients. Many of them have been with me for over 20 years and, like my loyal and longtime employees, are just like family to me. I take my responsibilities as a physician very seriously. Medicine in this current environment provides many challenges and obstacles for patients. Likewise, maintaining a strong and viable small practice is very difficult these days- current administrative requirements and regulations stretch a small practice's resources to the limit, but I am committed to offering a small practice alternative to my patients, with care as attentive, personalized and cutting edge as I can possibly provide. I look forward to going to work each day."
Curriculum Vitae
Address
1301 West 38th Street, Suite 110
Austin, Texas 78705
Telephone: (512) 454-3631
Fax: (512) 452-0853
---
Education
Undergraduate:
University of Texas at Austin
Graduate:
Episcopal Theological Seminary of the Southwest, Master of Arts Pastoral Ministry, 2011
Medical:
University of Texas Southwestern Medical School
Internship and Residency in Internal Medicine:
University of New Mexico Affiliated Hospitals
Fellowship in Rheumatology/Clinical Immunology:
University of Texas Health Science Center at San Antonio
Board Certifications
Internal Medicine
Rheumatology
Practice Experience
Austin Diagnostic Clinic
Partner, Austin Rheumatology and Osteoporosis Associates, LLP, January 2000-2006.
Austin Rheumatology Research, P.A., 2002-2016
Solo Practice, 2007-Current.
Medical Staff Appointments

Chief, Rheumatology Section, Ascension Seton Family of Hospitals, 1992-present
Professional Organizations

Travis County Medical Society
Texas Medical Association
American Medical Association
American College of Rheumatology
Central Texas Rheumatology Society, President and Co-Founder
---
Professional Organization Committee Appointments
Travis County Medical Society:
President, 2011
Secretary-Treasurer, 2008-2009
Executive Committee, 2004- 2012
Chair, Physician Health and Rehabilitation Committee, 2015- present.

Founder and Chair, Physician Wellness Program, 2016- present.

Indigent Care Task Force, Chairman, 2010-2012.
Board of Ethics 2003-2005, Chair 2004-2005
Mediation Committee, 1999- 2002, Chair 2002
Travis County Medical Society Foundation :
President, 2012
Board of Trustees, 2004- 2012
The Blood and Tissue Center of Central Texas:
Board of Trustees, 2008-2012
---
Practice Related Volunteer and Community Service Organizations
TCMS Physician Wellness Program, Founder and Chair, 2017- present.
Volunteer HealthCare Clinic, Volunteer Physician, 1997- present.
Seton Cove, Board of Directors, 2011-2013
Project Access, Board of Directors, 2011- current
Ministry of Challenge- weekly group meeting facilitator/volunteer.
Texas Reach Out/ Matthew House- weekly group meeting facilitator/volunteer.
St. Luke's Society, Physician Volunteer.
Capital Area Branch, Arthritis Foundation, Board of Directors, President (1990), Distinguished Public Service Award.
---
Awards
Travis County Medical Society Physician of the Year, 2017.
Castle Connolly Top Doctor annually 2010-2022
Texas Super Doctor annually 2004-2022
---
Medical Publications
Sayers, Brian S., "Clinical Aspects of Sjogren's Syndrome," Audio Digest Otolaryngology, 20(16).
Talal, N., Sayers, B., et. al., "Two Patients Illustrating Lymphoma Transition and Response to Therapy in Sjogren's Syndrome," Journal of Autoimmunity, 1(1), pp. 171-184.
Sayers, Brian, "Does Explantation Improve Symptoms in Women with Silicone Breast Implants?" (abstract), Arthritis and Rheumatism, 38(6), p. RR17,1995.
Sayers, Brian S., "Macrocytosis is not a predictor of Toxicity in Patients Treated for Rheumatoid Arthritis with Methotrexate," (abstract), Arthritis and Rheumatism, 39(6), Supplement, p. R11, 1996.
Sayers, Brian S., "Chronic Amitriptyline Use Causes Weight Gain in Patients with Fibromyalgia," (abstract), Arthritis and Rheumatism, 39(9), p. S92,1996.
Sayers, B., A Stonecutter's Story. TCMS Journal, 57(1):6-8, 2011.
Sayers, B., Covenant. TCMS Journal, 57(2):6-8, 2011.
Sayers, B., Indigent Care in Travis County: Seeing the Need – Navigating the Maze.TCMS Journal, 57(2):14-16.
Sayers, B., Amaryllis in a Box. TCMS Journal 57(3):6-8, 2011.
Sayers, B., Blank Pages. TCMS Journal 57(4):6-8, 2011.
Sayers, B., The World's Tiniest Violin Playing the World's Saddest Song. TCMS Journal, 57(5):6-8, 2011.
Sayers, B., Report on Access to Specialty Care for Indigent Patients. TCMS Journal, 57(6):16-27, 2011.
Sayers, B., Harvest. TCMS Journal 57(6):6-8, 2011.
Sayers, B., Physician Wellness Program: Keeping the Flame Alive, TCMS Journal, 63(5), 14-15, 2017.
Sayers, B., TCMS Wellness Program: A New Model for Providing Mental Health Services to Physicians, TCMS Journal, 65(3): 12-13, 2019.
Sayers, B., Who Will Care for the Caregiver?, TCMS Journal, 66(4): 12-13, 2020.
Sayers, B,. How to Save a Life, TCMS Journal, 67(1), 12. January, 2021 .
Sayers, B., Standing on Holy Ground, KevinMD.com, January 8, 2022.
Sayers, B., An Officer of the Court, KevinMD.com, April 20, 2022.
Sayers, B. , Recovery, TCMS Journal, 68(4), April-May, 2022